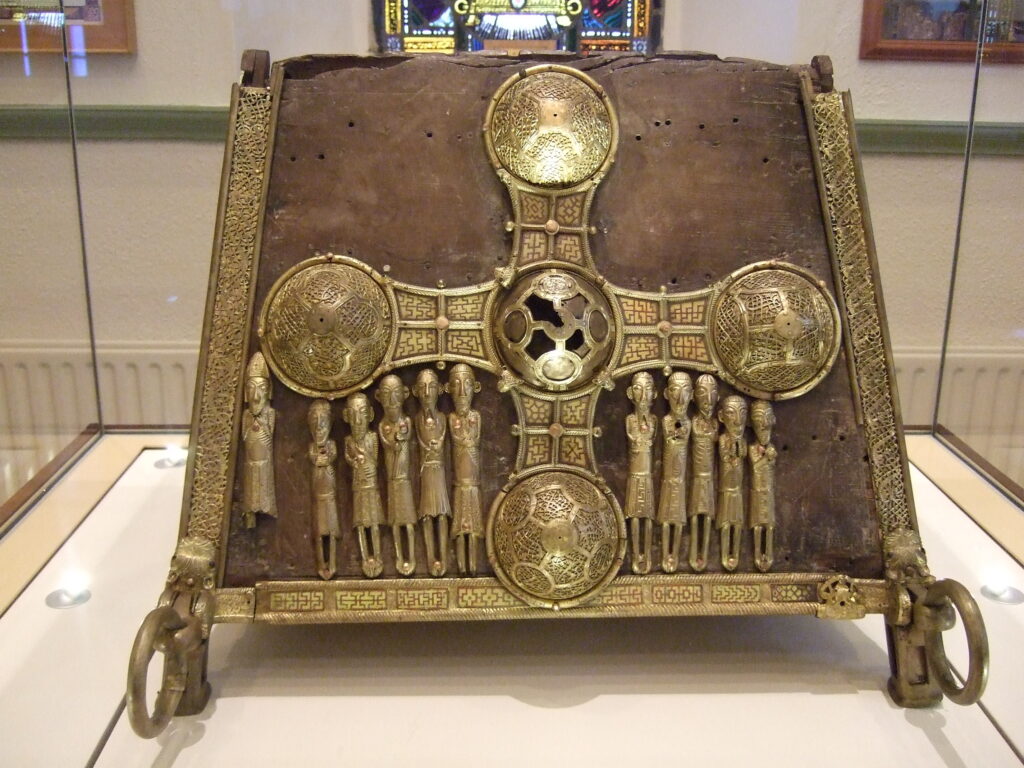 See what archaeological, art and industry artefacts are in the National Museum of Ireland from Offaly
You can download the archaeological, art and industry artefacts Access database . This lists all of the artefacts from Offaly in the National Museum of Ireland of items donated or on loan up to 2005. You need Access programme on your computer to open it. You can seach by townland, parish, barony, object, material, associated person, registration number, bog / river. There are 3329 archaeological artefacts detailed and 161 from the art and industry section.
What do you do if you find an Archaeological object now?
As there is no county museum or designated repository in Offaly (see Cultural Institutions Act 1997), all archaeological objects that come to light should, by law, be deposited with the National Museum, as they belong to the State (Under the National Monuments Amendment Act 1994). If you do find an item you should call the National Museum within 48 hours. Tel 01-6777444. The State does issue finders' awards where appropriate.
Heritage and Archaeological Objects on Display in Offaly
In St Manchan's church in Boher is a unique 12th century shrine – pictured above. This shrine is very much part of the community and contains bones which are venerated on the Saint's day, 24 January each year. The shrine is from Lemanaghan Monastic Site. In 2021 a book about the shrine will be published by Kevin O'Dwyer and Griffin Murray – see http://www.saint-manchans-shrine.com/ for more details.
There is one full time exhibition centre in Offaly – The Science Centre at Birr Castle. The interactive centre reveals the wonders of early photography, engineering and astronomy with a special emphasis on the brilliant design and assembly of the world famous Great Telescope. Discover astronomical instruments, cameras, photographs and photographic equipment used by the third and fourth Earls and Mary, Countess of Rosse, in the middle and late 1800s. Also on display is electrical and engineering equipment originally belonging to Charles Parsons and used in his experiments as well as a large area devoted to the botanical work carried out in the Demesne.
Kingship and Sacrifice – Old Croghan Man
In 2003, a bog body from the Iron Age was discovered at Old Croghan, County Offaly. An international team was assembled by the National Museum of Ireland and much research was carried out. Old Croghan Man is now on display in the National Museum in Kildare Street, Dublin along with many more Offaly artefacts. Archaeology Ireland have produced a 6 page A4 fold out leaflet Kingship and Sacrifice: Iron Age Bog Bodies and Boundaries which can be ordered from www.wordwellbooks.com