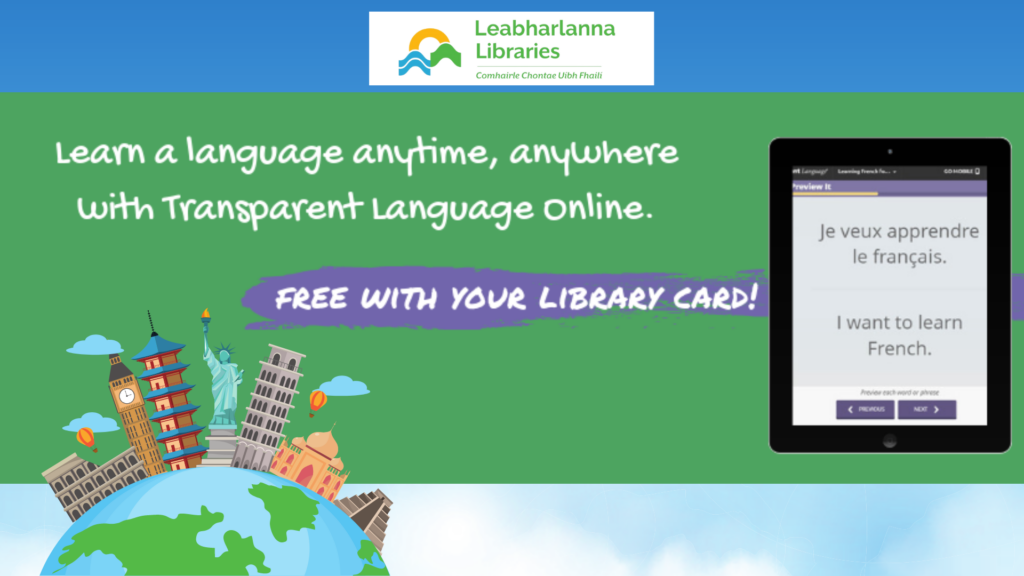 Transparent Language Online for Libraries is a a complete language-learning system with courses and lessons designed to build listening, speaking, reading, and writing skills. Transparent Language Online allows learners to explore a new language in the comfort of their own home, at the library, or on-the-go.
Through Offaly Libraries Digital Library, you will have unlimited access to more than 110 languages, including English for speakers of over 30 languages. Transparent Language Online for Libraries is packed with pronunciation practice, speech analysis, grammar, writing activities, and vocabulary-building activities. This extensive language-learning program works on virtually any computer or mobile device through a web browser or mobile app.
For a guide on how to Download the Transparent Language Online app click here.
For a "How to Guide" on using Transparent Language Online, click here.
Notice for Previous RBdigital Users
If you are a previous RBdigital user that had accessed Transparent Language Online through RBdigital, you will need to perform a password reset in order to gain access to your account and your learning history. This is a one-time password reset and when you come back to the Transparent Language Online login page, you will be able to access Transparent Language Online with your username and new password.
More information about performing a password reset can be found here.
You can also email support@transparent.com for assistance.
---
You might also like…